Meet the leading laparoscopy & colorectal surgeon in Bangalore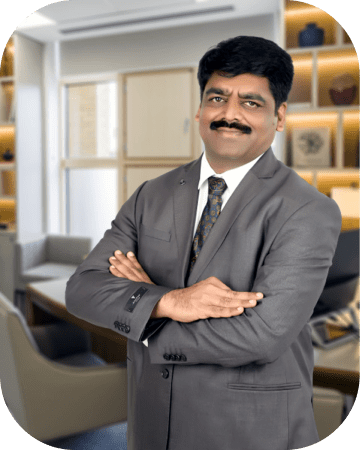 Dr. Prashanth J V is the leading colorectal & laparoscopy surgeon in India
Dr. Prashanth JV is a renowned leading General and Laparoscopic Surgeon in India with over 23 years of experience.
He has acquired degrees like MBBS, MS in General Surgery, Fellowship in Laparoscopic Surgery, Fellowship in Minimally Invasive Surgery and Diploma in Minimally Invasive Surgery from Kiel University-Germany.
Over the course of his illustrious career, Dr. Prashanth has gained expertise in Minimally Invasive Surgery and Colorectal Surgery(Hemorrhoids, Fissure, and Fistula).
Having been associated with top-notch medical faculties like SMILES Institute of Gastroenterology and Varalakshmi Hospital in Bangalore, Dr. Prashanth has worked on many complicated cases with a high success rate. He is an experienced laparoscopic and colorectal surgeon with a passion to provide the best possible solution to the patients.
Dr Prashanth JV is always updating himself on the latest techniques in the medical field. Recently, Dr Prashanth was trained on the latest treatment for Varicose veins which ensures no cuts, no hospitalization, and reduced chance of infection and complications.
Dr Prashanth JV delights himself in upgrading his knowledge to the latest treatment available keeping the patient's expectation, comfort, and safety in mind.
FELLOWSHIP IN MINIMAL ACCESS SURGERY (FMAS)
By World Association Of Laparoscopic Surgeons
(14th August 2010)
DIPLOMA IN GYNAECOLOGICAL ENDOSCOPY
By Kiel School Of Gynaecology Endoscopy
DUBAI, U.A.E (11th-16th July 2017)
FELLOWSHIP IN COLOPROCTOLOGY (FICP)
By International Society Of Coloproctology
(25th February 2017)
MASTER COURSE IN MINIMAL INVASIVE PROCTOLOGY
By Centre Of Excellence For Minimal Access Surgery Training
MUMBAI, INDIA (8th-7th December 2019)
LASER TREATMENT OF VARICOSE VENIS - EVLT
By Eravio Super Speciality Hospita & Research Centre
MUMBAI, INDIA (25TH June 2022)